My friend Beth wrote the blog below. I received her permission this morning to repost it for those that visit here and might not think to visit it in it's original form that you can see by clicking here. It is introducing Papa Francesco's latest treatise on Human Fraternity. I am looking forward to digging into that tome in the coming weeks. Thank's Beth for your enthusiastic response to it which is contagious.
Blessings everyone!
__________________
Human Fraternity
Friday, October 9
The themes in today's readings, beginning with the prophet Abraham saying, 'through you shall all the nations be blessed' and the Alleluia, 'I will draw all to myself, says the Lord', have been pulling me to Pope Francis' new encyclical,
Fratelli Tutti.
Why? The subtitle of the document,
Fraternity and Social Friendship
, ring true in my heart, just as it did during my first reading of the Gospel. 'Whoever is not with me is against me, whoever does not gather with me scatters." Lk 11:23
The Grand Imam, Ahmed el-Tayeb
and Pope Francis signed a document in
February of 2019
on human fraternity and world peace. The Grand Imam described this joint document as: "… a document that invites all persons who have faith in God and faith in human fraternity to unite and work together so that it may serve as a guide for future generations to advance a culture of mutual respect in the awareness of the great divine grace that makes all human beings brothers and sisters."
Fratelli Tutti is a document that needs to be read slowly to allow yourself to go deeper into the familiar story of the Good Samaritan, which is the framework of Pope Francis' writing. John Carr, Director of Initiative on Catholic Social Thought and Public Life at GU wrote a summary of the
Twelve Themes
on Sunday and
Georgetown University
held a forum on the encyclical on Monday.
The Alleluia acclamation today states: 'I will draw all to myself, says the Lord.' I believe this is what Pope Francis calls us to throughout Fratelli Tutti. The
relationships
we have with all of humanity and creation are sacred and entrusted to us through the Divine.
This recurring theme delights my Franciscan heart and soul. Click on the links above, read the documents, and find what is yours to do. Pray with me the words of Pope Francis as we begin this journey and necessary work.
Lord, make us instruments of your peace.
Help us to recognize the evil latent in a communication that does not build communion.
Help us to remove the venom from our judgements.
Help us to speak about others as our brothers and sisters.
You are faithful and trustworthy; may our words be seeds of goodness for the world:
where there is shouting, let us practice listening;
where there is confusion, let us inspire harmony;
where there is ambiguity, let us bring clarity;
where there is exclusion, let us offer solidarity;
where there is sensationalism, let us use sobriety;
where there is superficiality, let us raise real questions;
where there is prejudice, let us awaken trust;
where there is hostility, let us bring respect;
where there is falsehood, let us bring truth. Amen.
Contact the author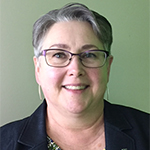 Beth Price is part of the customer care team at Diocesan. She brings a unique depth of experience to the group due to her time spent in education, parish ministries, sales and the service industry over the last 25 yrs. She is a practicing spiritual director as well as a
Secular Franciscan
(OFS). Beth is quick to offer a laugh, a prayer or smile to all she comes in contact with. Reach her here
bprice@diocesan.com
.
©2020 Diocesan
Remember, all produce on the farm is freely given
and never for sale. All donations to the farm
are tax deductible as we are a registered 501(c)(3).
If you've been blessed by our produce and would
love to make sure others get blessed too,
use the 'Donate' button below to pay it forward.